Year 1 and year 2 enjoy learning in Bysouth Class. The class teacher is Miss Wilson.
Celebration Assembly
A selection of this weeks celebration assembly photographs.
Spring 2023
We have got up to some incredible learning in Bysouth Class. 
We have been getting up to all sorts of learning in our maths lessons. We have been busy learning about number lines. We have learned how to add and subtract using a number line. Children in Year Two, have also been learning about money.
We enjoyed our Sleeping Beauty themed week. We made beds for Sleeping Beauty which linked to our Science learning on everyday materials. We also wrote some beautiful stories linked to Sleeping Beauty. We also made a fruit salad for Sleeping Beauty for when she would wake up.
We have been making good use of our learning partners to look at a piece of learning and discuss what went well and what we need to work on. Here are some pictures of us working well with our learning partners.
We have been busy learning all about mechanisms in our D&T lessons. We learned how to make our own levers and sliders.
Autumn 2022
We love learning outside in Bysouth Class! The children were given a Halloween maths challenge. Around our school field, there were a number of maths challenges. The children used their knowledge of number bonds and known facts to solve the challenges!
We have been learning all about The Great Fire of London in Bysouth Class! We loved sharing our sticky knowledge with the firefighters that came to our school. We found it very interesting to learn how putting out fires has changed since 1666.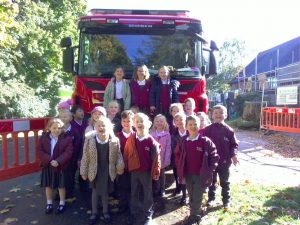 Year One's have been working really hard on developing their Phonics and spelling knowledge. They have also been concentrating really well on forming their letters correctly using lead in and lead outs.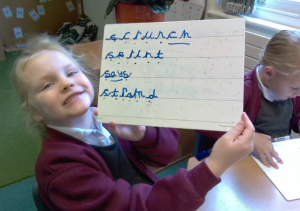 In Maths, we have been working hard on developing our understanding of place value. We have been busy comparing numbers using language such as greater than, less than and equal to.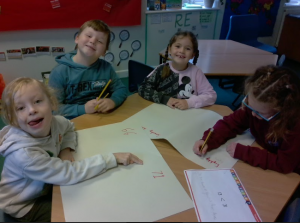 In Forest School, we made our own journey sticks. We went on a journey around the field and gathered all sorts of natural objects we saw along the way. At the end of our Forest School session, we were all able to talk about what our journey sticks represented. Some of us made our sticks into all sorts of different things, including a woodpecker!
Summer 2022
Bysouth Class have thoroughly enjoyed preparing and eating fruit and vegetables as part of their D&T topic. They have developed their understanding and skills in preparing dishes including peeling and slicing fruits to make fruit kebabs. Infants enjoyed trying new fruit and vegetables including cress, radish, purple cabbage, and many more.
Bysouth Class showed great resilience and aspiration during their Bikeability lesson. They developed their skills in riding a bike including manoeuvring between cones, and some wanted to challenge themselves further by giving someone a wave whilst riding their bike! They have also been enjoying and developing their skills in Yoga.
Spring 2022
In Science, we have been learning all about plants. We have planted our own seeds and have been full of awe observing them grow! We have learned all about what a plant needs to be able to stay healthy as well as identifying deciduous and evergreen trees in our school grounds.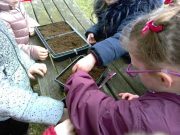 In Bysouth Class, we have been really enjoying our Forest School Sessions. In one of our Forest School sessions, we closely observed daffodils and sketched them. We also learned that some plants have seeds whereas, some have bulbs.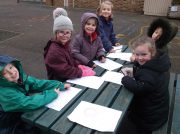 Please view the Infant class letter for news from Bysouth Class.