Year 1 and year 2 enjoy learning in Bysouth Class. The class teacher is Miss Wilson.
Celebration Assembly
A selection of this weeks celebration assembly photographs.
Summer 2022
Bysouth Class have thoroughly enjoyed preparing and eating fruit and vegetables as part of their D&T topic. They have developed their understanding and skills in preparing dishes including peeling and slicing fruits to make fruit kebabs. Infants enjoyed trying new fruit and vegetables including cress, radish, purple cabbage, and many more.
Bysouth Class showed great resilience and aspiration during their Bikeability lesson. They developed their skills in riding a bike including manoeuvring between cones, and some wanted to challenge themselves further by giving someone a wave whilst riding their bike! They have also been enjoying and developing their skills in Yoga.
Spring 2022
In Science, we have been learning all about plants. We have planted our own seeds and have been full of awe observing them grow! We have learned all about what a plant needs to be able to stay healthy as well as identifying deciduous and evergreen trees in our school grounds.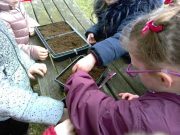 In Bysouth Class, we have been really enjoying our Forest School Sessions. In one of our Forest School sessions, we closely observed daffodils and sketched them. We also learned that some plants have seeds whereas, some have bulbs.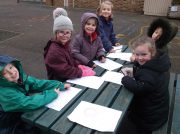 Autumn Term 2021
In Bysouth Class, we have started the year by exploring a range of maps of the United Kingdom. We have identified the United Kingdom on a world map as well as a globe. We have also looked at the four different countries that make up the United Kingdom.
We have had a fantastic first session at Forest School. We started our session by noticing the weather and seasonal changes. We then went on to look for bugs, insects, and birds. We discussed what animals may be living in certain areas on our school grounds. As well as this we chose three objects that were special to us. Many of us chose feathers and different colour leaves.
Summer Term 2021
In maths this half term we have revisited the 'think 10' strategy of adding and subtracting numbers by regrouping to make calculations more efficient.
The year ones combined two single digit numbers to make 10 and some more. They then moved on to subtracting a one digit number from a two digit number by going back to the previous ten.
The year twos added a single digit number to a double digit number by making the next ten then adding the rest. They then moved on to adding and subtracting two, two digit numbers by combining tens and ones using column methods.
In science we have been thinking about everyday materials. We have been identifying and sorting everyday materials such as metal, wood and plastic,  discussing their properties and considering whether they are natural or man-made.
In computing we used Purple Mash to set up a spreadsheet to use in a pet shop.  The children learnt how to add prices and calculate totals. We also used Purple Mash to compose our own soundtracks by dragging sound and instruments onto the composition grids.  The children then appraised each other's music and made improvements.
Please view the Infant class letter for news from Bysouth Class.