Year 1 and year 2 make up our Infant Class. The class teachers are Miss Panter and Mrs Wittich.
Winter Production
We performed a virtual production of Snowman at Sunset, with parents, grandparents and carers watching by Google Meet.
Autumn Term 2020
Our topic this term is Super Heroes Don't Always Wear Capes.
We have thought about the history in our own lives and how our lives have changed especially since we had to learn from home in March.  Covid-19 has changed our lives but we have helped each other to understand why we have had to make these changes.
We have heard about and met people who we think have been heroes during the pandemic.  People like shop workers, ambulance drivers, doctors, nurses and teachers.  We also think our parents have been heroes by teaching us at home as well as trying to work.  Mrs Wittich thinks we are heroes for showing such great resilience!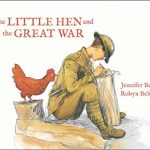 None of these people wear capes but they are still heroes.
We read the story of The Little Hen and the Great War. We met Arthur.  His life changed too when he travelled across the world from Australia to France leaving his family behind to fight in World War One.  We reflected and thought about how Arthur might feel about the changes and wrote home to the family.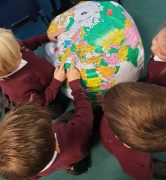 We wondered why the war was called the Great War.  We used globes and atlases to find the countries who took part.  We realised that nearly everyone in the world was effected by the war.  That answered our question.
We think Arthur was a hero without a cape.  What do you think?
We wanted to find our whether the Great War changed the lives of people living in the village of Reed like it did for Arthur.
We became history detectives and went on a hunt in the village.
We found some clues in the church.
This is what we discovered:
We are creating pieces of art to help remember those who lost their lives in the Great War.  We have discovered that the poppy is a symbol of remembrance because the flower grows where much of the fighting took place.  We have studied poppies thinking about the lines and colours they make: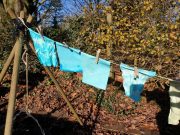 We have begun to use textiles to recreate our studies.  We have learnt how to dye fabric by dipping and tying to create our backgrounds.  We are now working on our sewing skills to add layers to our backgrounds to show the poppies.
We can't wait to show you our final pieces of art.
Here is our display of our learning journey about heroes and how life changed for them so far…
Please view the Infant class letter for news from the Infant class.
Celebration Assembly
Last week's celebration assembly photographs.
Home Learning
The children have been busy completing their studies at home during the time when schools are closed due to the Coronavirus.