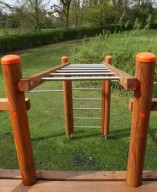 We actively encourage parents to become involved in their child's education.
Parents are encouraged to support their child's learning and are informed termly of the topics being covered in class.
Age-appropriate homework will be set throughout the school.
Lunchtime Supervision
We view the sharing of lunch as part of the curriculum and staff eat with the children. A meal is cooked and served in our own kitchen by our cook.
In order to maintain this service we ask that children who stay at lunchtime eat school dinner.
We encourage healthy eating and we have been awarded Healthy School status.
Health & Safety
The children's safety is paramount; we follow Hertfordshire Education Authority guidelines in these matters.
We adhere to the Public Health Agency's guidance on infection control in schools.
eSafety
Emergency Closures
Any school closure in the first instance will be communicated by the Everbridge Notification System.
To login or register for updates please go to:
https://member.everbridge.net/index/892807736725489#/login
Further details will then be delivered to parents/carers by Parentmail.
Online Payments
All school payments can be made through ParentMail. Please contact the school office for login details if you don't already have them.