Year 3 and year 4 make up our Junior Class. The class teacher is Miss Riches.
Celebration Assembly
A selection of this weeks celebration assembly photographs.
Class Camp-out – July 2021
We had a fantastic time at our class camp-out on the school field. We ate pizzas and hotdogs, played on a giant inflatable obstacle course, watched a film, planned midnight feasts and even managed to get a little bit of sleep in our tents!

Summer Term 2021
We have really enjoyed our DT project of shell structures this term, designing, making and evaluating our own Ancient Egyptian treasure boxes. First, we had a look at some completed boxes and evaluated their design. Then we had a practise of drawing our own nets and constructing our own 3D shapes. We learnt how important it is to be accurate with measuring and cutting. We discovered it was hard to draw and put together a pentagonal prism!
After that, we had a think of some designs for our own boxes and chose our favourite one. Next, it was time to draw out a net, carefully cut it out and add our unique Egyptian designs.
Now it was time to make our own Ancient Egyptian boxes. We made sure we accurately measured and folded our nets so that we successfully constructed our boxes. It was very tricky, but we showed great resilience and aspiration!
Finally, it was time to evaluate our treasure boxes.
Spring Term 2021
As part of our Birds Eye View Topic, we became geographers and created our own sketch maps of an area of Reed.
For our DT project of Varied and Healthy Diets, we designed, made and evaluated our own healthy sandwich snacks. First, we thought about some different designs.
Then we chose our favourite designs, and thought about the ingredients and equipment we would need.
We also wrote instructions for making our sandwich snack.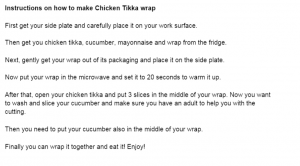 Now it was time to make and taste test our sandwiches!
Finally, we evaluated our products.
Autumn Term 2020
We started off our Topic by thinking about why the Romans left Britain, who the Anglo-Saxons were and why they came to Britain. We have learnt what life was like in Anglo-Saxons villages, and drew our own Anglo-Saxon houses and villages.
We discovered that the Anglo-Saxons were originally pagans but then converted to Christianity. We looked at historical evidence to decide why and how they converted to Christianity. It was very interesting to compare what life was like before and after the conversion.
Next, became historical detectives! Miss Riches gave us some pictures of Anglo-Saxon artefacts that were excavated at Sutton Hoo in Suffolk. We tried to guess what the objects were, what they were used for and what they were made from. Some objects were much easier to identify than others!  Finally, we drew our own artistic reconstruction of the ship burial at Sutton Hoo, along with the artefacts.
We love using our Anglo-Saxon themed book corner, both as a place to do some partner work, and to relax with a nice book!
In English, we have been learning all about myths and legends. We enjoyed reading different version of The Sword in The Stone and wrote our own adventures for Arthur and Merlin. Now, we are focussing on the Anglo-Saxon story of Beowulf. We have studied the villainous character of Grendel and have decided that he was definitely a terrifying and gruesome monster! After half term, we are going to create our own mythical monster and write our own version of a myth.
In Science, we have been learning about light and shadow. We categorised objects into natural light sources, artificial light sources, and objects that weren't light sources. We discussed how light travels, and how light is reflected. Some of us were very surprised to learn that the moon isn't a source of light – it only reflects the light from the sun!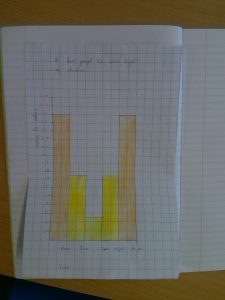 We investigated how well light travels through opaque, translucent and transparent objects, and thought about what materials would make the best curtains. We set up enquiries to investigate some scientific questions:
How can you make a shadow move?
How can you make a shadow longer?
How can you make a shadow shorter?
What happens when you hold a light source above an object?
We then moved outside to discover how shadows change during the day. We found out that shadows are longer at the start and end of the day because the sun is to the side, and that shadows are shortest at lunchtime because the sun is right above us. We used bar graphs to show our results.
In Maths, we have spent a lot of time investigating place value in 3 and 4-digit numbers, and are now moving on to working with tricky addition and subtraction problems. We like that we can choose our own resources from our Maths stop to help us with our work, and that we can choose to use different resources from our friends. Sometimes we might choose dienes or numicon, sometimes counters or bead strings, and sometimes even playing cards!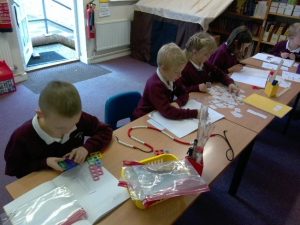 Shadow puppets
In DT we have made our own movable shadow puppets. We started our unit by researching different types of puppets and their uses around the world. We then analysed some existing shadow puppets to investigate how they are made and how they work. Next we designed our own shadow puppets and thought about what we would need to make them and wrote a flowchart with the steps of the design process.
Next, it was time to make our moveable shadow puppets!
Finally, we evaluated our own and each other's shadow puppets.
Please view the Junior class letter for news from the Junior class.