At Reed First School, our intent is to give every pupil a high-quality education in English which will teach pupils to speak, read and write fluently. As a result, they will be able to communicate their ideas and emotions to others. They will understand the purpose and audience they write for. Pupils have a chance to develop culturally, emotionally, intellectually and socially through studying literature. Reading also enables pupils both to acquire knowledge and to build on what they already know across the whole curriculum. All the skills of language are essential to participating fully as a member of society.
English at Reed First School ensures the requirements of the National Curriculum are met across all year groups. We have adapted the Herts for learning materials as a basis for our teaching and learning. We believe that all children should be part of a literacy rich environment. The importance of literacy is recognised through use of high quality texts and experiences to offer a wealth of opportunities to read, write, speak and listen. Good practice in reading, writing and speaking and listening is shared and modelled in whole class teaching.
In the Foundation Stage English is seen through opportunities in Communication, Language and Literacy. The emphasis is on teaching English through stories and non-fiction texts with strong topic links, child-initiated learning through play and the demonstration and use of language rich environment.
Speaking and Listening
We develop each child's ability to speak with confidence, clarity and fluency in a variety of situations, for a variety of audiences and for a range of purposes. We foster the confidence needed to speak to an audience by incorporating a range of opportunities to speak in our daily routines to becomes a natural life skill. Capacity to listen with attention and understanding is developed as soon as the children start school by providing engaging experiences and time to respond. All adults working with the children model correct use of Standard English and accurate speech.
Intent
Reading
Children at Reed First School enjoy a wide range of reading opportunities. A love of reading is developed through stories playing an important part of every class. Part of our planned progression for English includes carefully selected quality texts which are read to the children as part of a daily story time. Quality texts including classic tales and stories written widely acclaimed authors are used as the stimulus for our English lessons. Reading to discover plays a crucial part in acquiring knowledge and understanding across the curriculum.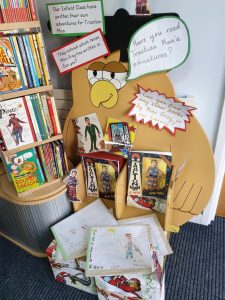 All children have access to a book from a graded reading scheme to support the development of their individual reading and phonic skills. Children start the reading scheme in the Early Years and continue until they become competent, independent readers.
School expectation is that daily reading at home (minimum of 5 times per week) should take place. A reading record is used to record books read and observations made. An adult from home is expected to sign the reading diary and add a comment.   Children are heard read individually in school also by teachers and volunteers.
Guided reading offers opportunities for the children to read and respond to a challenging text with the teacher supporting. Each session has an assessment focus, against which children's knowledge and understanding are assessed. Guided reading provides an opportunity for children to demonstrate what they have learned about reading and to further develop and extend their reading fluency. They will also improve their use of expression and comprehension skills. The guided reading session also includes other reading opportunities and activities for those children not in the teacher focus group.
Writing
To ensure a progression of skills in writing, we have adapted the Herts for Learning writing units to suit our setting (see writing long term plans A and B years). The high quality texts used as stimuli for writing ensure use of a range of fiction, non-fiction and poetry writing. Where possible, the children are given meaningful opportunities to write. Written outcomes often also have direct links to topics and other curriculum areas. To celebrate writing together, the whole school uses the same stimuli at key points during the year in the form of responding to performances, artwork and books.
Handwriting
Early Years children work on basic letter formation. As they move in to Year One, this leads them onto practising writing letters with a 'lead-on' and a 'lead-off'. When children are able to form all letters correctly, with the appropriate lead-on and lead-off they are taught to use cursive joined up handwriting. Handwriting and presentation is a big focus in the school. Teachers expect high quality presentation in all written work. (See handwriting and presentation policy)
Phonics and spellings
The teaching of phonics is key to the development of a child's reading. We follow the Letters and Sounds programme which is directly linked to spellings. From Early Years to the end of Year One, we follow the synthetic phonics programme Little Wandle.  Children have a daily small-group phonics lesson, organised by the phonic phase that they are currently working in. When children are fully secure in Phase 5 (for reading and spellings) they use this time to have a specific and additional Grammar, Punctuation and Spelling session to cover curriculum expectations and see these applied in all written work. Spellings are taken from high frequency word lists, phonics from the week and age-related spelling lists.
This link explains what phonics is.
This link will help you know how to help your child learn their sounds.
This link takes you to the Little Wandle parent page