Intent
At Reed First School our intent is to develop and embed the skills to reflect on our own beliefs and values while acknowledging that others may hold beliefs different to our own.   We aim to use Religious Education to help prepare our pupils for adult life and encourage their sense of identity and belonging.  Our pupils are supported to develop as individuals, within their own communities, as members of a diverse society and as global citizens.
The national curriculum states the legal requirement that:
Every state-funded school must offer a curriculum which is balanced and broadly based, and which:
promotes the spiritual, moral, cultural, mental and physical development of pupils; and
prepares pupils at the school for the opportunities, responsibilities and experiences of later life.
At Reed First School, Religious Education is taught following the Hertfordshire Agreed Syllabus 2017 – 2022.  We use the syllabus to ensure the following eight key areas are taught each year:
Beliefs and Practices
Sources of Wisdom
Symbols and Actions
Prayer, worship and reflection
Identity and Belonging
Ultimate Questions
Human responsibility and values
Justice and Fairness
Each year these key areas are taught through themes such as 'Giving something up' or answering questions such as 'Why is there suffering in the world.  While reflecting upon and sharing personal beliefs and experiences, the children cover these themes through the beliefs and practises of world faiths.  Over the two-year cycle used across the curriculum in our mixed age classes, the children will learn about Christianity, Islam, Hindusim, Judaism and Sikhism as well as faith groups other than these which represent our school community, such as Jehovah Witnesses.  Please see our curriculum over view below, entitled Eight Key Areas of RE.
Leaders and members of faith groups are invited to lead assemblies linked to our school values and themes form our Personal, Social and Health Education learning.
Through each lesson, the teachers will identify the theme taught and the skills which progress through the school from Knowledge and Understanding of the World in Early Years to skills of Investigating, Interpreting, Reflecting and Empathising.  We use resources and ideas form NATRE (National Association of Teachers of Religious Education) to ensure the experiences the children have are enabling them to develop these skills in a creative and where possible practical way.
Examples of this are set out below: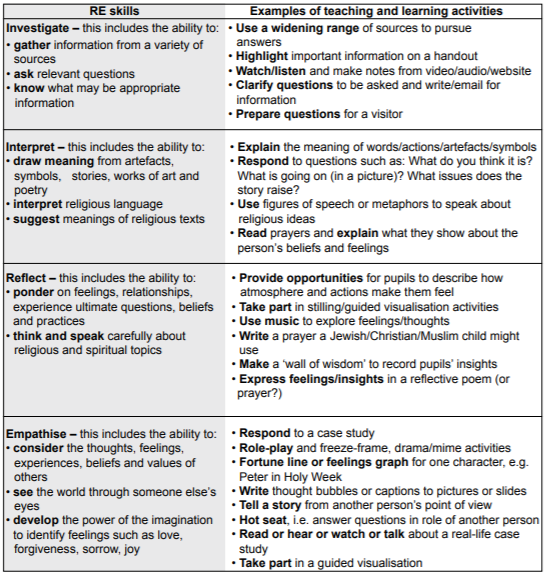 Parents have the right to withdraw their child from Religious Education on the grounds of conscience and they should contact the Headteacher if they feel they would like to discuss this.